VANS SHOES ARE BACK ON THE MENU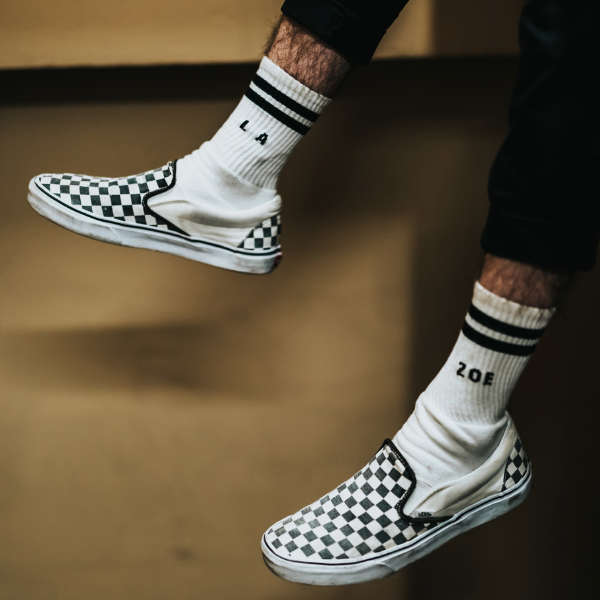 MENS VANS TRAINERS - OUR SHORTLIST
Last seasons highlights of Nasa and DC comics collaborations are a distance memory, so now its time to see what fresh from the House of Vans.
Having seen the whole collection the major takeaways are from the seasonal range are the introduction of oversizing and deconstructed elements and panelling.
What we mean by oversizing is that certain elements, panels, laces, for example, will be exaggerated in size in some way and this effect really changes the appearance of the shoes in a positive way.
Next is the deconstruction.
Vans
have looked deep into the fabrication techniques and materials they use on a regular basis and cleverly picked out, or flipped them to create a new focus.
A highlight for us was the 'foam' range with the exposed edges. They look fresh and add lightness and comfort so its a total winner in our eyes. Look out for the SK8-Mid and the Old Skool Foams.
Right, without further ado, lets get into the Vans SS19 season in more detail
LOVE TO SK8
The humble Vans SK8-Hi has been the leading icon in the Vans back catalog for many decades. In the last 3 years its taken a back seat as the
Vans Old Skool
has been the most popular silhouette on offer, but the SK8 is the model the style influencers are moving towards as we see the rise in popularity of the retro high tops style.
Below is our 6 of the best Vans SK8's available today.
VANS OLD SKOOL
The
Vans Old Skool
has been killing it for the last 3 years and its popularity is yet to wane. The reason for this is the constant development of colourways and fabrications that keep the silhouette fresh for all demographics and price points.
Lets be real, this is a shoe that was originally designed nearly 50 years ago so we love to see the development and evolution of an icon is this way as it creates its own heritage with the millennial generation.
OTHER MENS VANS TRAINERS
There are several other
Vans Shoes
that are dope as hell but are less commercial and more for the style conscious individuals looking for a point of difference.
Here's our rundown of the best mens vans trainers that will get you noticed.
---
Share this post
---