THE BEST 'DAD TRAINERS' WE WANT TO WEAR
LIBERATE YOUR CLOSET
Whether you call it Chunky, Ugly or Dad this trend for big and complex sneaker silhouettes has been bubbling under for at least two years since our eyes first melted when the
Balenciaga
Triple S launch. It wasn't just out eyes that melted, the internet went crazy with public opinion as tempers bubbled over with heated views on the good, bad an ugly.
The last 12 months have seen much more acceptance as many of the sportswear brands have taken design cues for the absurd and outrageous models we were exposed to initially and this has made the trend more palatable for the masses. However, the bizarre and lairy models are still dropping if that's your pref.
To the casual observer and core sneakerhead this whole chunky trainer vibe came as a bit of shock, especially when clean, slim and minimal trainers were the go to for many years. I recall a conversation with
New Balance
in 2013 and they were very concerned with the tapering of trouser legs and the slowdown in demands for New Balance trainers as the chunky aesthetic had begum to jar with the current trouser and denim styles....how times change as New Balance are central to the en vogue movement.
STYLING TIPS
We mentioned skinny and tapered trousers early, but don't think buy purchasing a pair of chunky trainers you have to re-think your whole wardrobe. Its just not the case.
The best way to style chunky trainers is to wear layers, and some oversized sweatshirts and jackets as this will balance out the footwear.
Tapered trousers will still look fresh, but if you are looking for a legwear maybe consider a wider and cropped trouser leg as this will harmonise with the chunkiness of the trainers.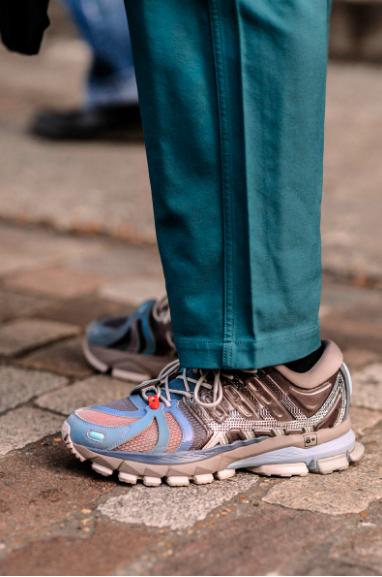 Paris Fashion Week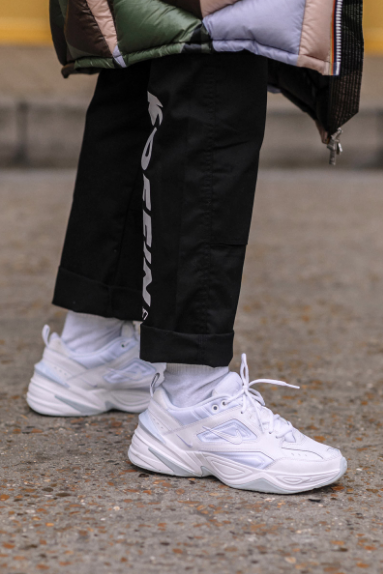 Nike M2K Techno
There are two distinctive segments within the chunky trainer world as we see the sportswear brands re-issuing cross training and trail shoe classics from the 80s and 90s, coupled with those we see mid & high end fashion brands re-imagining sneakers through the lens of runway fashion.
Yes, all these are grouped under the chunky banner, but have very different DNA and purpose

First off we're going to round up the best from the a sporting goods perspective, these are brands you will be familiar with and some of the trainers might give you a warm and nostalgic flashback to sneakers from the golden era.
DOUBLE TAKE WITH JOY
So, we've rounded up the best models that we would cop/rock from the more traditional sportswear brands and now its time to reveal the shortlist from the designers and manufacturers of chunky trainers you may be less familiar with.
---
Share this post
---